NEW CHALLENGE - QUINTET HAS NEA GRANT for MEMORY PROJECT STAGE 2!
Dear Friends of Quintet of the Americas, We have a new $10,000 grant from the National Endowment for the Arts for a new Memory Project. We need to match this grant 1:1. Please help us reach this goal. $6,000 already raised! Help us raise the additional $4,000.
Please click here to make a contribution.
Quintet Launches the Memory Project Stage 2 with composer Harold Gutierrez.

Video of the Memory Project
See an interview with Chamber Music America about the Memory Project...
Click here to see more news from the memory project...
Click here to see more photos...
Add the amount you want to donate here: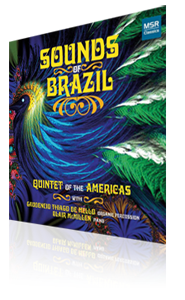 SOUNDS OF BRAZIL
The Quintet announces the release of its exciting new recording, SOUNDS OF BRAZIL, on the MSR label. The music includes choros, lullabies and songs by Gaudencio Thiago de Mello who performs with the Quintet on his unique organic percussion from the Amazon. Thiago plays with the Quintet on works by Ernesto Nazareth and Pixinguinha as well. The Quintet is proud to include Changes, a work they commissioned by Brazilian-American pianist and composer Marcelo Zarvos. Rounding out the CD is Ventos, another Quintet commission by a gifted young composer on the New York scene, Ricardo Romaneiro. Guest artists include Blair McMillen on piano and Scott Kuney on guitar.
SOUNDS OF BRAZIL on the MSR Label
Karel Husa Recollections on the New World Records label.
Dancing in Colombia on the MSR Label - 15 Colombian dances including bambucos, pasillos, bundes and paseos.
Self Portrait on the CRI label - avant garde music for Quintet including works by Pauline Oliveros, Elliot Sharp, Amy Rubin, Christopher Culpo and Lee Hyla
Discovering the New World on the MMC label - music from the Carnegie Hall Concert (Louis Ballard, William Thomas McKinley, Roberto Sierra, and "America (Suite Popular)" - Ilan Rechtman).
Souvenirs, 20 Musical Mementos from the New World on the XLNT label - Samuel Barber's "Summer Music" and many Quintet favorites.
See the Quintet on Youtube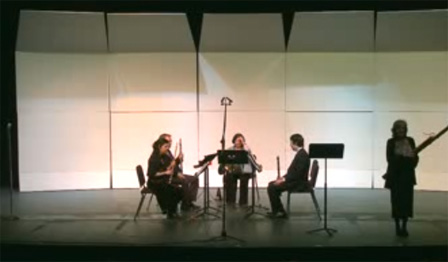 Watch the Quintet play in "El Picaflor"
Quintet of the Americas visits the New York Hall of Science and Flushing Meadow Park. Hear El Picaflor (also available for download on Amazon from the Dancing in Colombia CD.)
Format iPad — Format WMV link – MPG — YouTube – Dailymotion – Veoh.com – Vimeo.com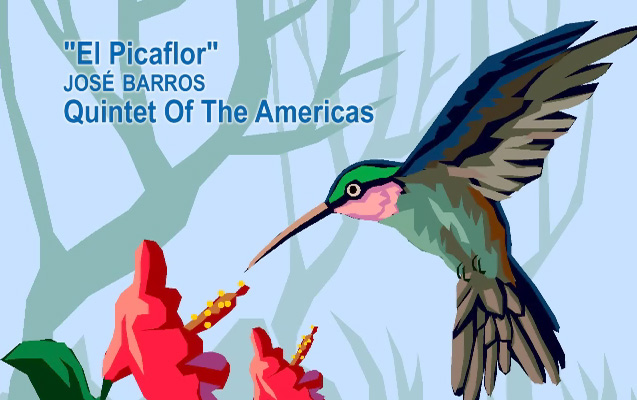 Listen to the Quintet
Now also on SoundCloud
Wiggle Room
First movement of Short Winds (2010) by Sean Friar recorded live at Princeton University April 26, 2011
Sfumato I Vivace, by Yao Chen
The Quintet of the Americas
Sfumato II Adagio, by Yao Chen
The Quintet of the Americas
Sfumato III Capriccio, by Yao Chen
The Quintet of the Americas
Ambos Mundos, Shadow Quartet, Neil Rolnick
The Quintet of the Americas
Mo Suo's Burial Ceremony, by Xinyan Li
The Quintet of the Americas