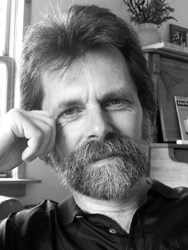 Nicholas Scarim grew up in Chicago and attended the Chicago Musical College. He moved to New York in 1977, and in 1979 his opera Sumidagawa, based on the Noh drama, was developed by Yale's Eugene O'Neill Theater Center and subsequently premiered by the Opera Company of Philadelphia. He has had ballets, operas, film scores, chamber, and orchestral works commissioned and performed by numerous American orchestras and opera companies. His work has been performed at Alice Tully Hall, Avery Fisher Hall, and Town Hall in New York City. "A Simple Melody," commissioned by Carnegie Hall, has been performed there by the American Composers Orchestra and the Orchestra of St. Luke's for eight seasons, and by 14 other orchestras across the US and Canada. He has taught composition at the Third Street Music School in New York since 1979.
The Garden at Night -
A piece for a woodwind quintet and a narrator who recites a story in verse about a child who sneaks outside in the middle of the night and finds that quite a few flowers and plants (like tiger-lilies and snapdragons) have come to life in the moonlight!
-----
The Garden at Night – Nicholas Scarim
You're quite convinced that it's only for spite
That you aren't allowed in the garden at night.
Your parents, you think, simply don't understand
that to play in the garden at night would be grand.
But they've sent you to bed, and THAT'S THAT they have said.
But the later it gets, as you lie in your bed
a naughty idea creeps into your head:
It's not necessary to do what they say.
You'll slip out – discreetly – and just disobey.
So you've just come down to the edge of the grass
and you're thinking, "Well, here I am at last,"
when a PUSSYWILLOW starts to purr
and rubs your leg with its buds of fur.
And you suddenly start to become aware
of quite a few other odd noises there.
There's a sound in the dark from somewhere in the park
as the DOGWOOD blossoms begin to bark.
And back there too, in the slippery dew
the COWSLIPS munch the grass, and "moo..."
You hear a far-off, throaty growl, meaning:
TIGER-LILY is on the prowl!
You're already tense from the sheer suspense,
when the SNAKEWEEDS hiss all along the fence.
And it surely would frighten most peace-loving folk
when a SNAPDRAGON lets out a puff of smoke!
You admit to yourself, in extreme agitation
that you've made what one might call a "miscalculation."
So you hastily head for the warmth of your bed
as the CRABAPPLE's pincers clack shut overhead,
and you think that your parents are nobody's fools -
since there seems to be some sort of sense to their rules –
as you leap into bed, not a moment too soon,
and you hear the WOLFBERRY howl at the moon.
And you think that perhaps your parents were right
when you weren't allowed in the garden at night.
© Nicholas Scarim 1988