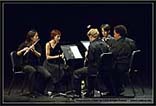 NYS Summer Institute
A week with the Quintet at New York University for College and High School Students
June 20-June 26, 2010
Spend a week in New York City with Quintet of the Americas preparing several woodwind quintets for performance. This is a chance to work intensively on chamber music while playing with and being coached by a member of the Quintet. There are also three master classes, information on music as a business and tips for your career in music.
Please click here for application

.
For more information please contact the Office of Special Programs at 212-992-9380 or Esther.Lamneck@nyu.edu
Comments from past attendees:
Thank you again for the incredible week at NYU. I feel this was the absolute best program I have ever attended, no kidding. I enjoyed the easy access to all the members of QA and also getting to play with college students really pushed me to a place I could not have gotten to in such a short time on my own. Sara Menegus, oboe
This was better than I expected! It was great to actually have a coach play with us. You learn so much more about chamber music that way.
Adam Zagor, clarinet
All of the master classes taught things that were new to me, which I loved, especially the electronic music. Also watching a professional quintet rehearse was something I haven't been able to do before.Robert Casal, horn
More student comments on what was unique about the NYU Institute:
To have one so completely familiar with the piece and the issues it poses be a colleague as well as a teacher was immensely exciting.
I was able to experience a sense of self-reliance not found elsewhere.
The emphasis on the business aspects of starting a career was excellent.
Thank you very much for this incredible experience! This was one of the most intense, helpful, and informative programs that I've ever attended.
This is different from other music camps because the focus is on chamber music and the direct access to the Quintet made the experience more personal.
Everything was great - thanks for an amazing week of music. Your personal connection to the students helped a lot - keep it this small - it allows for a better, more personal experience.