BLACK LIVES MATTER! Statement of the Quintet of the Americas
The Quintet of the Americas stands in solidarity with the Black community, in the arts and beyond, as our country struggles to overcome racial discrimination and violence. Long espousing the values of equity and justice, both as an organization and as individuals, we will not remain silent at this time of turbulence.
The pandemic has affected us all, but none more than the Black community. Disparities in access to healthcare and housing, as well as education and jobs, have left communities of color struggling for survival.
As a musical ensemble, we recognize and value the immense contributions of Black performers and composers to chamber music. Our efforts to increase their visibility and representation, collaborating with Black and Latinx artists, have educated us and our audiences about the painful history of injustice they have long endured.
The Quintet continues to prioritize racial equity in all areas of our operations, and to encourage dialogue about organizational and structural racism within our field. We urge our audience members, funders, and colleagues in the performing arts to stand together with us to declare that racial intolerance and violence must be stopped. The change must be in each of us … and it must be now.
Quintet of the Americas Creates Concert Archive of Commissioned Works as part of Its Celebration of 40 Years in New York City
All of the Quintet's concerts were cancelled starting mid-March as the global pandemic swept through NY with a vengeance. Prevented from rehearsing and performing live, we have been creating concerts for you to hear and watch on YouTube – selections of our commissions from the last 40 years which we have recorded from past concerts. We are asking the composers to record new introductions to their works! Our first concert is up. It's a diverse program, everything from Colombian dances by Jorge Olaya Muñoz, to a work inspired by Manhattan in 1609 and today: Mannahatta Windows by Robert Deemer, to fun works by Thiago de Mello and James Cohn, to one of our first Memory Project pieces: Music for Bayside by Lembit Beecher based on interviews with Bayside seniors, to Dream Song from Vision III by Judith Sainte Croix with native flutes and masks, to Variable Winds by Daniel Ott, a piece inspired by the changes over hundreds of years in Flushing, NY. We have also posted a short of Carl MaultsBy's Still Rockin' In Jerusalem. https://www.youtube.com/watch?v=_ya5tx6PDWA. We hope you will enjoy this concert and check back for the next one coming soon!
Quintet produces 9 educational videos
After visiting one school to perform our educational program, the virus stopped us from visiting any more schools. We spent the first 6 weeks of stay-at-home recording and assembling a workshop video and 8 more videos which we sent to many schools. Teachers and principals were grateful for these materials as they switched with no notice to on-line remote learning. We expect these videos will be used in more schools in the fall. They are all up on YouTube.
Queens Jazz Greats Program Big Success Last Fall
We had great fun collaborating again with jazz artists Earl McIntyre, bass trombone/ tuba player and arranger, Renée Manning, vocalist, and Carlos Maldonado, percussionist, in programs that celebrated the artistry of Queens Jazz musicians. So many jazz artists have called Queens home. We presented a series of 4 workshops, a culminating concert and satellite concerts featuring music by Louis Armstrong, James P. Johnson, Fats Waller, Billie Holiday, Jimmy Rushing, Jimmy Heath, Cannonball Adderley, and Dizzy Gillespie. Earl created new arrangements of these works for woodwind quintet, trombone or tuba, percussion and vocals. . We took these event to senior centers, an Adult Alzheimers Day Care, rehabilitation hospitals and the Langston Hughes Library. This project was part of a Chamber Music America Residency and was supported by the National Endowment for the Arts, as well as New York State for the Arts and New York City Department of Cultural Affairs. It's always so much fun to work with these friends! Here is a performance we put on YouTube of one of Renée's songs performed by the 8 of us. https://www.youtube.com/watch?v=Ucg7evI4hPA ENJOY!

See the Quintet on Youtube
First Memory Project - Bayside Senior Center, Queens, NY https://www.youtube.com/watch?v=RP0s4XwF8-g
New Memory Project work, "Retrospectives" by Harold Gutierrez on YouTube https://www.youtube.com/watch?v=Q4iVRrj-iQo
Memory Project post-concert interviews with students and parents from the Corona Youth Orchestra after our premiere performance of "Dreamers' March" for solo quintet and youth orchestra by Harold Gutierrez https://www.youtube.com/watch?v=jYWhS2PhZFA
New NYSCA Commission "Variable Winds" by Daniel Ott on YouTube https://www.youtube.com/watch?v=wQAKs__qfNc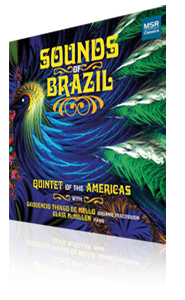 SOUNDS OF BRAZIL
The Quintet announces the release of its exciting new recording, SOUNDS OF BRAZIL, on the MSR label. The music includes choros, lullabies and songs by Gaudencio Thiago de Mello who performs with the Quintet on his unique organic percussion from the Amazon. Thiago plays with the Quintet on works by Ernesto Nazareth and Pixinguinha as well. The Quintet is proud to include Changes, a work they commissioned by Brazilian-American pianist and composer Marcelo Zarvos. Rounding out the CD is Ventos, another Quintet commission by a gifted young composer on the New York scene, Ricardo Romaneiro. Guest artists include Blair McMillen on piano and Scott Kuney on guitar.
SOUNDS OF BRAZIL on the MSR Label
Karel Husa Recollections on the New World Records label.
Dancing in Colombia on the MSR Label - 15 Colombian dances including bambucos, pasillos, bundes and paseos.
Self Portrait on the CRI label - avant garde music for Quintet including works by Pauline Oliveros, Elliot Sharp, Amy Rubin, Christopher Culpo and Lee Hyla
Discovering the New World on the MMC label - music from the Carnegie Hall Concert (Louis Ballard, William Thomas McKinley, Roberto Sierra, and "America (Suite Popular)" - Ilan Rechtman).
Souvenirs, 20 Musical Mementos from the New World on the XLNT label - Samuel Barber's "Summer Music" and many Quintet favorites.



Some of the venues for our upcoming concerts may close resulting in postponed Quintet of the Americas events.
Please keep checking back at our website to get the latest information.
Thank you always for your continued support and understanding. Please stay healthy!

Concerts Cancelled in response to the COVID-19 Pandemic
Concert in time of COVID 19 - Concert #1

Quintet of the Americas presents a concert of past performances of selections chosen from over 100 pieces commissioned in the last 40 years. The first of several of these concerts, this one features Te sorprende? 2:37 and Provincianita 1:00:30 by Jorge Olaya Muñoz, Mannahatta Windows by Robert Deemer 7:23, A Hug for Pixinga by Gaudencio Thiago de Mello 18:24, Music for Bayside by Lembit Beecher 27:10, Arkansas Reel by James Cohn 36:56, Dream Song from Vision III by Judith Sainte Croix 43:45, and Variable Winds by Daniel Ott 49:20. Closing music Sourwood Mountain Variations by James Cohn 1:03:39.
Watch the Quintet play in "El Picaflor"
Quintet of the Americas visits the New York Hall of Science and Flushing Meadow Park. Hear El Picaflor (also available for download on Amazon from the Dancing in Colombia CD.)
Format WMV link – YouTube – Dailymotion – Veoh.com – Vimeo.com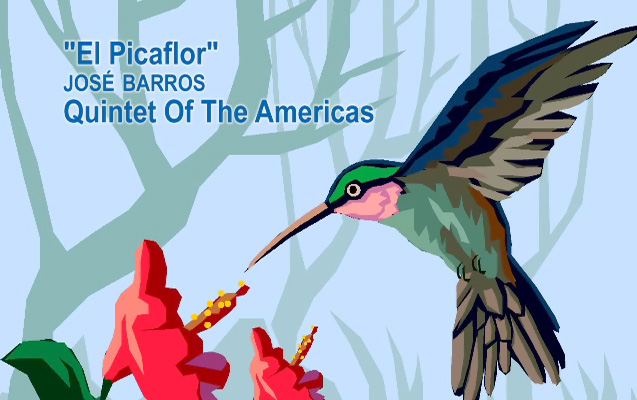 Listen to the Quintet
Now also on SoundCloud
Wiggle Room
First movement of Short Winds (2010) by Sean Friar recorded live at Princeton University April 26, 2011
Sfumato I Vivace, by Yao Chen
The Quintet of the Americas
Sfumato II Adagio, by Yao Chen
The Quintet of the Americas
Sfumato III Capriccio, by Yao Chen
The Quintet of the Americas
Ambos Mundos, Shadow Quartet, Neil Rolnick
The Quintet of the Americas
Mo Suo's Burial Ceremony, by Xinyan Li
The Quintet of the Americas
| | |
| --- | --- |
| | |
The Quintet's mission is to broaden knowledge and appreciation of music from the Western Hemisphere, and particularly new music, through the performance, commissioning, and recording of woodwind quintets and related chamber music. We encourage inter-cultural appreciation and understanding by performing contemporary, classical and folk-derived music from the diverse cultural traditions of the Americas. We search out collaborations with composers, guest artists, other ensembles, other art forms and other organizations to enrich our own growth and to enrich the musical products we bring to the community. We seek to enhance understanding and appreciation of this music through exploitation of multiple media and innovative technologies. Through community partnerships the Quintet serves recent immigrants, seniors and lower income audiences in Queens with its unique programs that bring new concert music and living composers to the people.
To support the Quintet in their outreach programs, commisions from artisits and other community events and concerts please contact quintetorg@gmail.com.