Sxip Shirey's Hour of Charm
Performances of traditional mbira music arranged for Quintet of the Americas and the band Timbila,
featuring UK-based Zimbabwean mbira master Chartwell Dutiro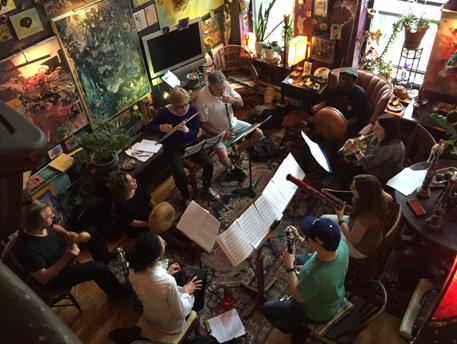 "Winter Seed" by Rima Fand arranged for Quintet of the Americas
"Hits or Misses" by Mazz Swift, performed by Swift and Marika Hughes
Electronic percussion and digital turntablism with NYC Haitian artist Val Inc.
The multiphonic piece for solo oboe "OH BOY!" performed by Matt Sulivan of the Quintet of the Americas
New pieces by Sxip Shirey "Latency" which features 4 electro-mechanical reverse disc music boxes and "Bullies" with with singer Aaron Roche which features syllabic lyric hocketing.
National Sawdust — 80 North 6th Street, Brooklyn, NY 11249
Doors open at 6PM — Tickets in Advance $25 — At the Door $30
See http://nationalsawdust.org/event/in-situ-sxip-shireys-hour-of-charm/
National Sawdust (NS), an unparalleled, artist-led, non-profit venue, is a place for exploration and discovery. A place where emerging and established artists can share their music with serious music fans and casual listeners alike.
In a city teeming with venues, NS is founded with an expansive vision: to provide composers and musicians across genres a home in which they can flourish, a setting where they are given unprecedented support and resources essential to create, and then share, their work.
All Quintet concerts are ADA accessible