Culture Lab, 5-25 46th Ave., Queens NY 11101 in Long Island City
Tickets:
$20/concert $10 student/seniors)
$50/Festival pass for all 7 concerts from June 10-June 12

Echoes From a Distant Land (1983) José Raul Bernardo (1928-2008)
I: Very Free as if each player is searching for the others
II: Fast and Playful, Full of Life
Dedicated to Matt Sullivan and the Quintet of the Americas, New York, Oct. 1983.
Woodwind Quintet No. 1 Jazz Quintet in Three Movements (1981 rev 2004) Ed Bland (1926-2013)
Begin Again (2020-2022) B. Allen Schultz (b. 1964)
Allegro
Dentro Szherzo. Allegro.
I Take My Walk Slowly. Slow.
Finale. Allegro con brio.
Commissioned with support from the Queens Council on the Arts
Rockaway Baby (2016) Lev "Ljova" Zhurbin (b. 1978)
III: D.O.M.
Commissioned with public funds from the New York State Council on the Arts, with the support of Governor Andrew Cuomo and the New York State Legislature
Klezmer Fantasy (2019) James Cohn (1928-2021)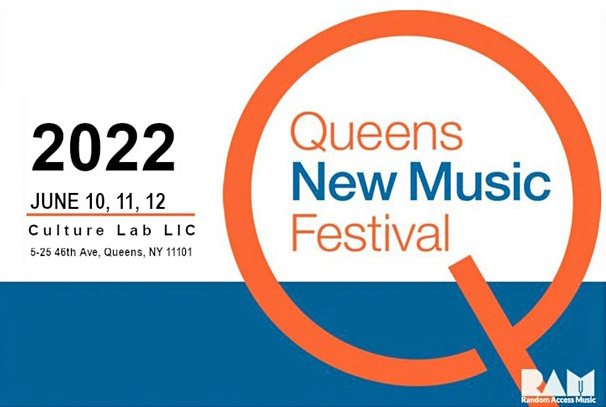 Random Access Music presents the 2022 Queens New Music Festival "ReEmerge" June 10, 11, and 12
Random Access Music (RAM) and the 2022 Queens New Music Festival reemerge and return to live performances with an exciting lineup that includes premieres of contemporary classical music from the Quintet of the Americas, the Shutterspeed Duo, and Random Access Music; contemporary tango/jazz from the Emilio Teubal Trio; sound sculptures from guitarist Giacomo Baldelli; and a portrait concert paying tribute to RAM founder/composer Allen Schulz.
All our concerts are ADA accessible

For MTA transportation information, visit http://tripplanner.mta.info/MyTrip/ui_web/customplanner/TripPlanner.aspx.